Its time again for the Crazy Cooking Challenge. This month we were set out to find the best Apple Pie recipe and share it with the world :) I have to admit that I am not a big apple fan. I know I know im crazy I hear it all the time lol. I don't know what it is but I prefer lots of other fruit over apples. But there are a few things that I enjoy apples in. And I have an amazing apple pie recipe already on my blog so I was sad that I could not re post that one but its always good to find something new. So I searched and searched and found a different version of apple pie. Caramel apple pie pizza. Now that is one that I didn't mind trying :) I got this recipe from life-as-a-lofthouse When I saw her pizza I knew it was the one. The pizza was so yummy and even better warm and topped with some vanilla ice cream oh yes it was a winner. So here it is my Crazy Cooking Challenge recipe for October Caramel Apple Pie Pizza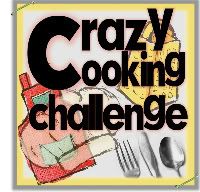 Pastry crust for single-crust pie (I made my own crust and will add the recipe to the bottom of the post)
2/3 cup Sugar
3 tablespoons All-Purpose Flour
1 teaspoon ground Cinnamon
4 medium Red Delicious Apples, peeled and diced into 1/4 inch pieces
TOPPING:
1/2 cup All-Purpose Flour
1/3 cup packed Brown Sugar
1/3 cup Rolled Oats
1 teaspoon ground Cinnamon
1/4 cup Butter, softened
1/2 cup Caramel topping
1.Roll pastry to fit a 12 inch pizza pan; fold under or flute the edges. Combine sugar, flour and cinnamon in a medium bowl. Add peeled, diced apples and toss. Arrange the apples in a single layer over the pie crust to completely cover it.
2.Combine the first 5 topping ingredients in a bowl and then sprinkle evenly over the apples.
3.Bake at 350 degrees for 35-45 minutes or until apples are tender. Remove from oven and immediately drizzle with caramel topping.
The pie crust recipe that I used
1-3/4 cups and 2 tablespoons
all-purpose flour
3/4 Cup unsalted butter cold and cut into tablespoon size chunks
1/4 tsp salt
1/3 cup ice water
2 1/4 tsp apple cider vinegar
1.Combine flour, salt, and butter in a food processor. Pulse until mixture resembles coarse crumbs, about 10 1-second pulses.
2.Stir water and vinegar in a small bowl.
3.Pour half the ice water and vinegar mixture into the flour and butter mixture. Pulse to combine, about 3 (1-second) pulses. Pour in remaining ice water and vinegar mixture. Pulse until mixture just starts to come together, about 8 (1-second) pulses.
4.Turn dough out onto a wooden surface, pat into round ball shape.
5.Wrap each disc in plastic wrap and refrigerate for at least 30 minutes until ready to use.(longer the better mine was in the fridge about 3 hours)